Glasgow is a city that combines historic architecture with modern urbanity. In August 2023, the UCI World Championships made Glasgow the focus of the best cyclists in the world, and we discovered what it is like to explore the city by bike.
Our city guide is local Tom Robertson, who has lived in Glasgow for two years. A Scottish native originally from Aberdeen, he has also lived in The Netherlands and Sweden.
"I studied in Amsterdam, so I always compare any cycling with that experience," he begins, "when I first lived in Glasgow, I didn't have a car and felt a bit down about not being able to get out to the hills. Once I discovered the bike routes and all the hidden gems around it changed my perception of the city."
Exploring Glasgow
We begin our journey in the bustling city center, the beating heart of Glasgow steeped in Victorian-era tradition and architecture. Glasgow's Central Station is an arrival point for many visitors and commuters to the city and the heart of the commercial and retail areas of the city. Currently, it is one of the least preferred routes for Tom when crossing town. our project Future Cities explored a new vision for Glasgow, but today, we use it as a starting point.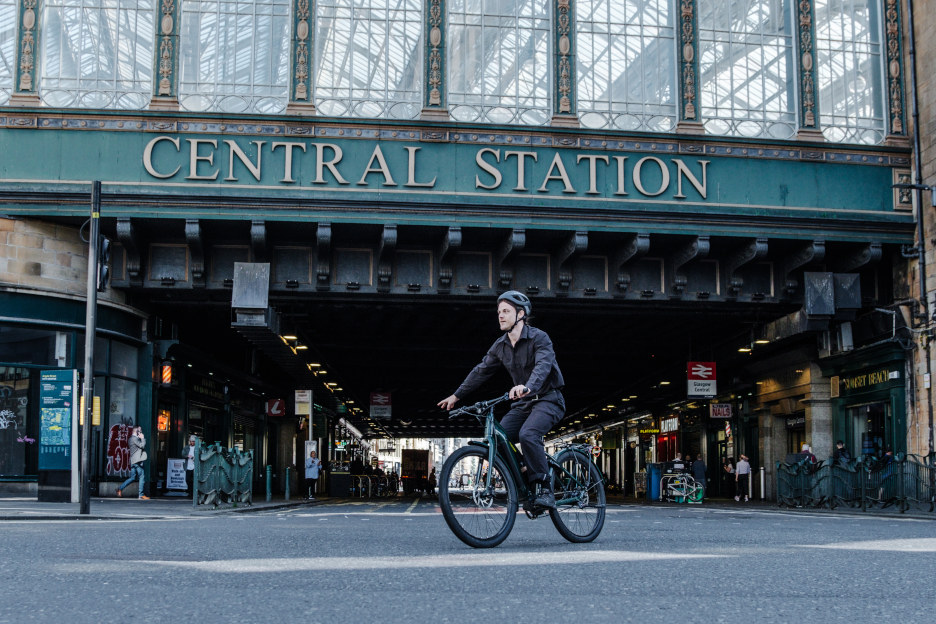 From Glasgow's center, each point of the compass leads to a unique and different neighborhood.
Head west for a little bit of bohemian culture, with Glasgow University, the Kelvingrove Art Gallery and Museum. Byres Road has an array of boutique shops, cafes, and bars, making this area a hub for culture, arts, and education.
To the east is the Celtic Park football ground, where the lively Barras Market is found, and the iconic landmark of Glasgow Cathedral. To the south are large city parks, giving a taste of nature even within this urban environment
Finally, to the north, you can discover Glasgow Botanical Gardens and the Glasgow University Library, it's a leafy residential area with a mixture of Georgian and Victorian architecture. The Finnieston area offers some of Glasgow's most highly-rated eateries and bars and was once named one of the top 20 trendiest places to live in the UK!
To the south of the city, cyclists pour across the distinctive Clyde Arc, affectionately known as the Squinty Bridge, providing a refreshing perspective on Glasgow's urban beauty.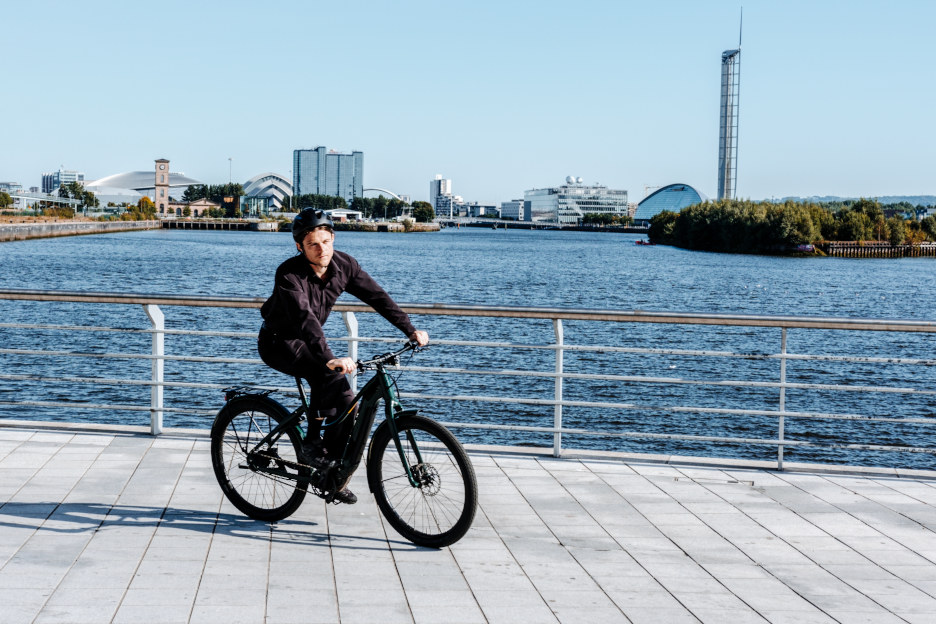 Using parks, cyclists can link up a green and leafy route across the city, "To get from west to south, I can easily take detours through the parks. Kelvin Grove Park is the biggest. It is always nice to sneak a different route and get five minutes of peaceful cycling through a park instead of going through the streets."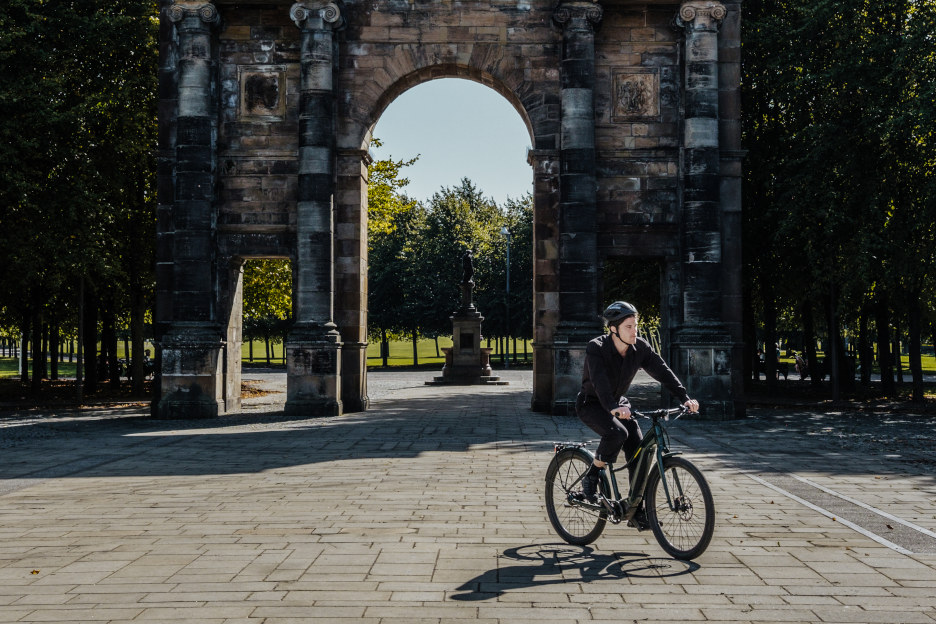 Glasgow's nature
Tom leads us on one of his favorite routes, which cuts a line through the city toward the nature surrounding Glasgow. "My favorite rides are along the canals. You can follow the water onto the West Highland Way near where we live. There is a moment when you go past a busy lively student area, but then suddenly you drop onto a quiet cycling path alongside the canal. The positive of the bike is how quickly you can get out of the city and discover nature."
These pathways offer a fantastic flat surface for all cyclists, making it popular with everyone from daily commuters to those looking for exercise or on long-distance routes.
"The accessibility to the countryside is the biggest benefit of the canal cycle paths. If you cycle north out of the city to Milngavie on the West Highland Way, you start to meet more cycle tourists and people walking. On a sunny evening, there is a nice loch that you can get out to enjoy a wild swim."
For many city dwellers, their bike provides their connection with nature and feelings of freedom, "I sometimes romanticize that I want to be out in nature all the time, but I still need many aspects of the city for work and culture. Wherever you are in Glasgow you are always a walk or a cycle away from somewhere that is natural and where you can feel a bit more grounded."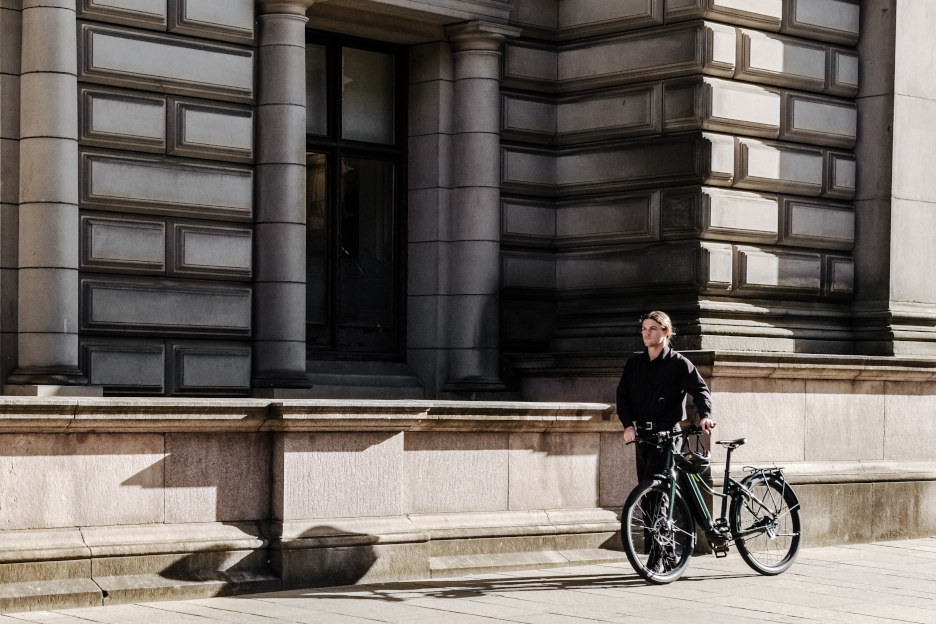 Own the city by cycling
As we weave through the historic and modern canvas of Glasgow Tom has the instinctive route knowledge of a local. "Cycling in Scotland seemed a bit of a hassle to me after the ease and convenience of Amsterdam but as I started to explore, I realized that I could cycle somewhere in ten minutes that I had been taking the subway for. Glasgow now feels really small to me."
Explore more cycling cities with Shimano. Discover Barcelona, Hamburg or Copenhagen by bike.