Peaceful, green, and filled with light. Barcelona is a cycling city built for people to enjoy life to the fullest, from its surprisingly calm corners to the metropolitan buzz of one of Europe's most densely populated cities.
For the Catalonian capital, cycling equals quality of life. In 2015, the city launched the "Bicycle Strategy for Barcelona," a measure designed to encourage the habit of cycling as a primary mode of urban transport. People in the city work together with the council to increase space to cycle and to enjoy the city safely within low-noise, low-traffic zones. It is a collaborative effort to create an environment of healthy living, making Barcelona such a brilliant place to visit.
Liv Montuori has lived in Barcelona for almost 5 years. She runs Livablestudio.com – working with businesses to develop sustainable practices for fashion and textiles. As an experienced urban cyclist, Liv shares her thoughts on Barcelona as a cycling city, sharing unique insights into how to enjoy the metropolis to the fullest.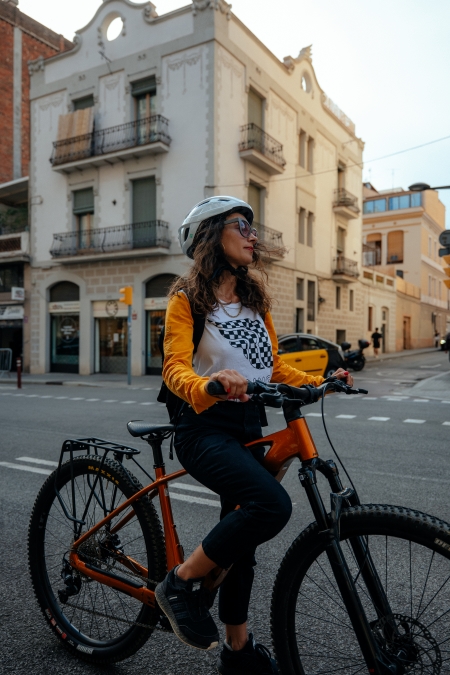 Barcelona – a city connected to nature
"I've lived in four different countries and my bike always comes with me. In our busy lives we tend to disconnect from the power of nature. By cycling, I can feel the inspiration and buzz of the city while connecting with the natural world.
"Barcelona builds its city around people. The architecture allows the sun to peek between the buildings, lighting up the streets. There are bike lanes everywhere, places for children to play, and quiet places to sit in the shade. If I have a meeting on the other side of the city, I know I can cycle there safely and enjoy the ride."
Barcelona's 'old town' is a characterful jumble of narrow streets. Still, outside of this, the city is more grid-like in design. This block system has lent itself to the creation of the superblock, turning nine blocks into low-traffic neighborhoods, allowing more space for people to meet, walk, ride, and play.
Not every city Liv has lived in is so cycling friendly: "I've lived in London and in Nuremberg. In Nuremberg, my biggest frustration was that I could not cycle to my office. To go out of the city you had to drive or take a bus. There were beautiful bike rides I could do on the weekends, but I could not make cycling part of my daily life."
Barcelona's pledge to improve cycling was accelerated by the introduction of special lanes during the pandemic. In our 2022 State of the Nation report into e-bike use, 51% of residents in Northeast Spain said that cycling infrastructure had improved in the last year.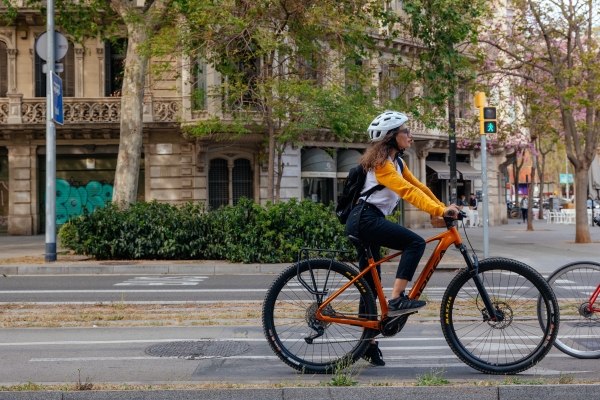 Where to ride in Barcelona
Liv has many favorite places to cycle to across the city, including the surrounding National Park, Serra de Collserola. "I use my bike to traverse the city, but if I feel the need for the sea I can go there and be calm. In Barcelona, you have the sea and the bike lane, there's no traffic.
"I love going to the top of the city, into Collserola. You have a view over the city, over the sea, but you are surrounded by trees. There are vineyards and bodegas where you can go for lunch. It is not far from the city, but it is uphill. I use my e-bike, but if you feel tired, you can take the funicular to the top. It is such a privilege to live within a vibrant city and be able to cycle to somewhere in nature.
"Another place I like to visit is Gracia – which is its own village within the city. A peaceful, semi-pedestrianized suburb with a timeless look and feel. I go to small and family businesses, local makers, local produce light on plastic packaging. It's important to me to support businesses with the same values. When you eat the food, you know where it is coming from, you can meet the people who made it, and it tastes so good!"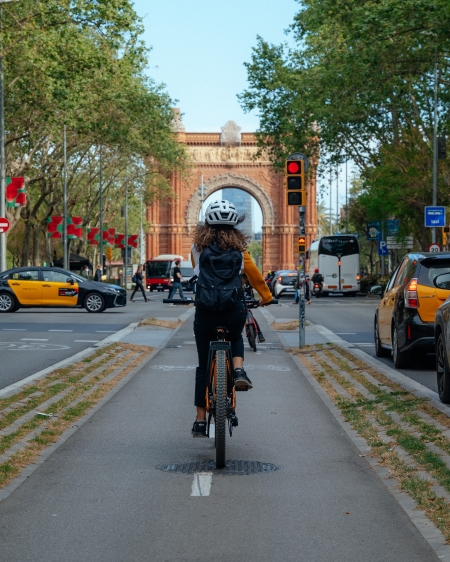 Barcelona's cycling future
Barcelona is, of course, not perfect, and there are still things that could make cycling more enjoyable and accessible. People for Bikes City Ratings ranks Barcelona 19th out of 1236 global cities and 11th out of 143 large cities.
Liv suggests some ideas, "Barcelona is incredibly cycling friendly, but the one problem is the fear of having your bike stolen. If you want to go for dinner or meet friends, it can be a concern. The city is trying to create safe parking spaces for bikes, but we're not quite there yet."
Another area of development is joining up the transport network. "I think one thing missing from Barcelona, that is missing in most cities in Europe, is a way to carry your bike on buses. You can take your bike on the train and the metro. Taking your bike on the bus would make longer journeys more accessible to a wider audience."