Calderdale is a region of West Yorkshire in the North of England, and where the river Calder and river Hebden joins you will find Hebden Bridge, a historic market town. Nestled in amongst steep hills and narrow valleys, rippling rivers and wooded hillsides it makes for a stunningly beautiful, if challenging place to cycle. Its narrow old streets, cobblestones and an ancient pack-horse bridge also make it a challenging place for deliveries. It's not the obvious first place to start a cargo-bike delivery scheme, but you've not met Cargodale yet.
"When the pandemic first struck cars disappeared from our roads as people stayed home, but instead we noticed a huge increase in the number of delivery vans and trucks," explains Antony de Heveningham. Large vehicles are even more disruptive on narrow streets creating issues of parking, encroaching onto pavements not to mention the pollution caused by idling engines as drivers rush to make their deliveries. "We saw an opportunity for a zero-emissions delivery system that would be better for our community" and from that idea Cargodale, a community interest company was born.
Delivering everything from personal groceries, to Christmas turkeys and servicing local industries, Cargodale is initially greeted with scepticism, " we hear a lot of comments from people who live up steep and narrow lanes asking if we will be able to manage but scepticism soon turns into enthusiasm."
One local company HebTroCo keeps Cargodale especially busy, "bike delivery is a really good fit for them– their company ethos is about British manufacturing, supporting their local community." HebTroCo is the creation of owners Ed and Brant. Hebden Bridge, used to be known as Trousertown, because it made over 20,000 pairs of trousers a week. Ed and Brant had an idea to see if it could be revived.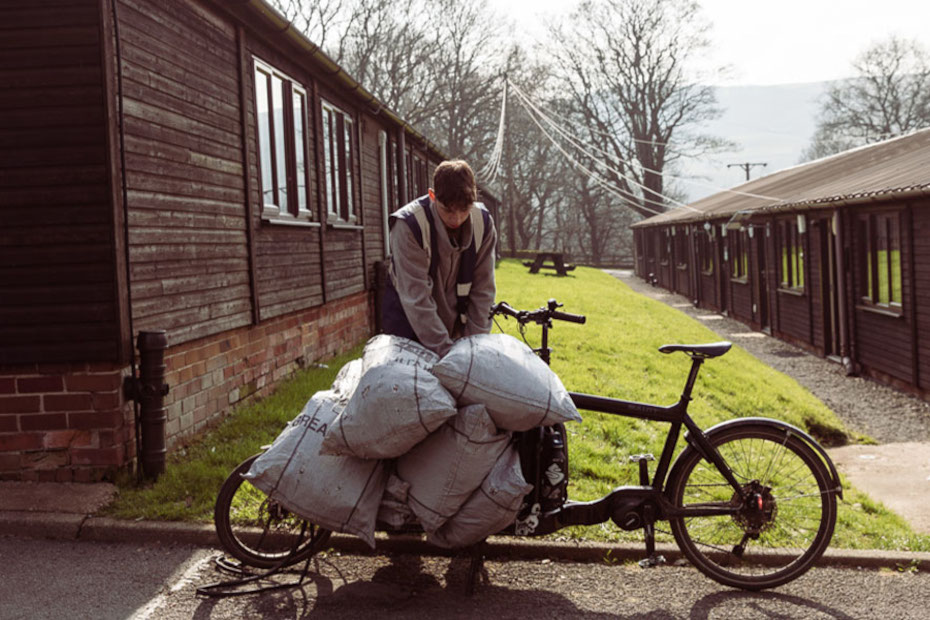 HebTroCo was launched on Kickstarter, a crowdfunding website, at the end of January 2016, with the aim to sell an initial batch of 176 pairs of trousers, that batch sold in five hours. Since then they have added denim jeans, shirts, socks, hats and other paraphernalia working with makers, mills and factories in Britain.
"Brant and Ed are bike people, they value engineering and good design qualities."Ed rode his own cargo-bike back from Copenhagen with a load of their trousers on board and did pop-up shops along the way," Antony explains. "All their deliveries go through the local post office. They know the postmaster by name. Sometimes our riders are doing four full loads a day, shipping out products from Hebden Bridge to all over Britain and beyond."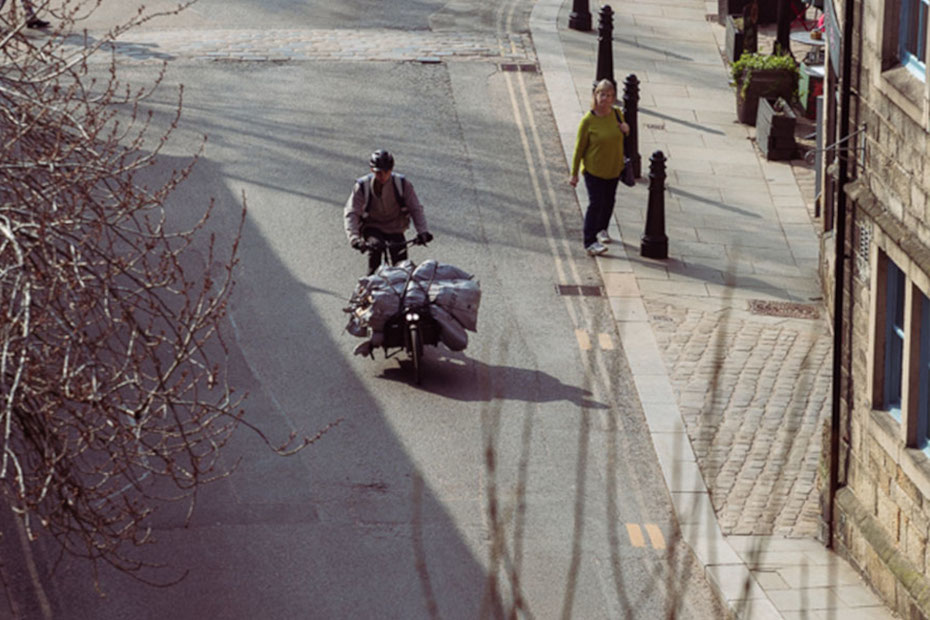 Low impact bikes with a high impact on community
Replacing the noise and fumes of delivery vehicles with bikes has a huge impact on towns and villages making them quieter, more pleasant and allowing more space for people. "Hebden Bridge is pedestrianised in the centre which has made a real difference to the enjoyment of folk walking around. With e-cargo bikes we can deliver to places in towns and city centres that are car-free without spoiling that environment." There's one village nearby where the main street is closed to through traffic, but there is still a constant stream of vehicle deliveries, "with Cargodale we are showing there is another way."
Seeing the team of riders on their cargo-bikes is opening up the community's eyes to what e-cargo bikes can achieve. "The Calder Valley is not even an easy place to road cycle. We are showing that you can cycle around here, our riders wear their every-day clothes, cycling is for everyone. It's a wonderful demonstration of what e-bikes can do."