When illness meant that cycling was no longer possible Sarah Butler turned to an e-bike to give her the energy boost she needed to keep on enjoying riding her bike.
Sarah Butler has suffered with ME, also known as Chronic Fatigue Syndrome, for 27 years. When the physical effort of riding a conventional bicycle became too much for her, she treated herself to a new e-bike which has allowed her to reconnect to the cycling experience she loved.
"Cycling has been a core to the way I interact with the world since I was a child. When I got married, we went on a cycling honeymoon, we went on trips with our kids, I used a bike to commute, I cycled to the shops. I was a mountain biker way back in the early '90s and was part of a mountain bike club. On Wednesday nights we would ride together and then go to the pub. On weekends me and my husband would cycle 30-40 miles together," explains Sarah as she outlines her relationship with cycling.
"For a long time, my ME was mostly quite mild, with unpredictable crashes and periods of good health. In 2015 I cycled around Sweden with my husband but in 2016 I went to Costa Rica and caught a gastric bug. I was very ill for three months which severely affected my ME." After this Sarah stopped cycling for a while, "I didn't ride my bike for ages – I really missed it," nearly all physical activity became very exhausting, "I have three levels of fitness, walking, cycling and running. I can't run at all anymore. On my worst days I couldn't walk. When recovering, a short walk would mean having to lie down afterwards."
Gradually, Sarah started to cycle again, but the landscape she lived in made it harder, "I couldn't cycle very far or fast on my road bike, and if I tried, I would have to lie down for the rest of the day. I live in the High Weald (a hilly part of southern England), I could not ride up a hill, I was only able to ride one route that was flat, it was very boring."
For an active person like Sarah, it can be incredibly difficult to readjust behavior to manage the symptoms of chronic fatigue, "my ME is not stable, it can worsen, so it is a fine balance to manage my energy levels. Hills are particularly difficult. I don't want to avoid hills, I love hills, the whoosh of going down them, but they do affect my energy levels."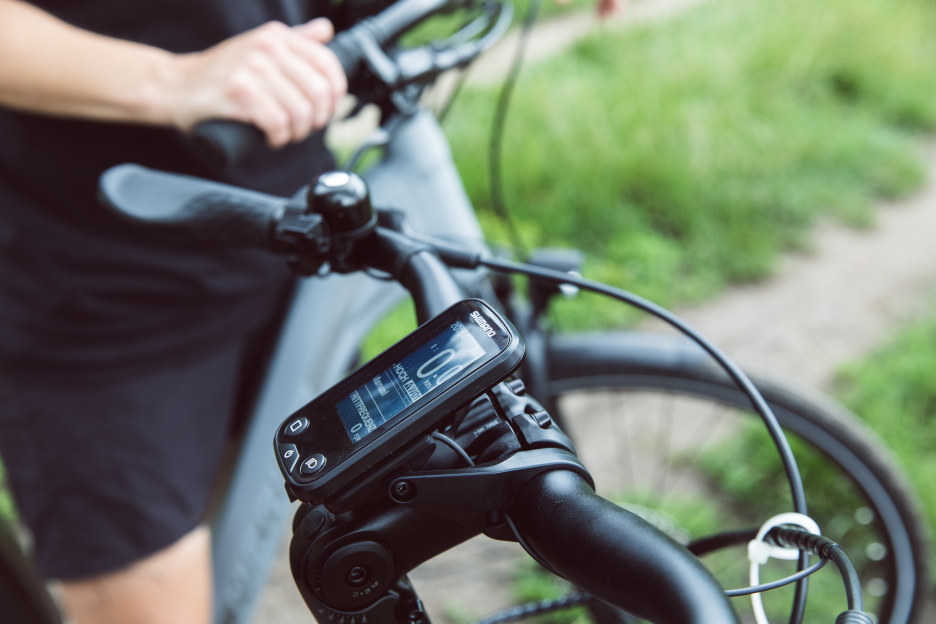 When the opportunity to buy an e-bike came along Sarah grasped it, "I had an unexpected windfall and I thought I'm going to treat myself to an e-bike." With the support of her e-bike Sarah was able to tackle longer rides and hilly terrain again so she could develop her fitness in a controlled way without becoming over tired, "it is very hard to get cycling fit if you are not that healthy. The e-bike is allowing me to build up my strength. I began with small rides, just 4 miles into town, had a break and rode home. I still need to rest and sometimes I can't ride. It is a myth that e-bikes don't take energy!"
Having an e-bike has meant that Sarah's lifelong relationship with cycling can continue. For her cycling is practical, social and a way to connect with the environment around her, "Cycling started out as a way for me to get to school when I was in 6th form. I cycled as a student; I didn't want to be on the bus, and no one had a car. I'm not pretending in any way to be a speedy Gonzales on my e-bike, it is a practical bike. I go to the shops, and I put my shopping in the basket. Some people don't acknowledge me – but then I overtake them!"
It also allowed her to reconnect with the social side of bike riding, "I have always cycled with my husband, that is really important to me. In the summer we met some friends for breakfast – It was a lovely friendly communal way of celebrating the day. My husband is an endurance cyclist, historically I have never kept up with him but that morning on my e-bike I left him for dirt!"
Her new e-bike has allowed Sarah to return to the type of cycling she enjoyed "I don't take pleasure in driving 4 miles to a meeting, but I do take pleasure in cycling. I can ride an off-road route on my bike and interact with the outside world, feel the rain on my skin and listen to the trees."
Could e-cycling be the answer for you too?
Sarah Jane Butler's first novel, Starling, was published by Fairlight Books in 2022. There's no cycling in it, but there is lots of walking and mud!