Pedal your way to feeling happier, healthier and sleeping better. Warmer days, spring flowers and more daylight hours to get out and enjoy the sunshine. Being outside in the sunshine has many benefits for our physical and mental well-being.
Who doesn't feel their spirits lift when spring arrives? And there are health benefits too.
One of the best-known benefits of sunlight is its ability to boost the body's vitamin D supply. Most cases of vitamin D deficiency are due to a lack of outdoor sun exposure. Our bodies make vitamin D by natural sunlight falling on our skin.
Vitamin D plays many roles in the body. It keeps your bones, teeth and muscles healthy. It supports your brain and immune system and can help regulate how your body uses glucose. While you can take Vitamin D as a supplement, the type we make ourselves is more effective.
Another benefit of cycling out in bright natural light in the morning is that it helps regulate your sleep patterns. When you are exposed to sunlight in the morning, your production of melatonin, the hormone that helps to promote sleep, occurs sooner, so you can fall asleep more easily at night.
Cycling in the sunshine makes us feel happier. One of the reasons is that when sunlight enters your eyes, it triggers your brain to produce more of the 'happy hormone' serotonin. Moderately high serotonin levels result in more positive moods, and a calm yet focused mental outlook.
Time to grab your bike and make the most of the benefits of the sun!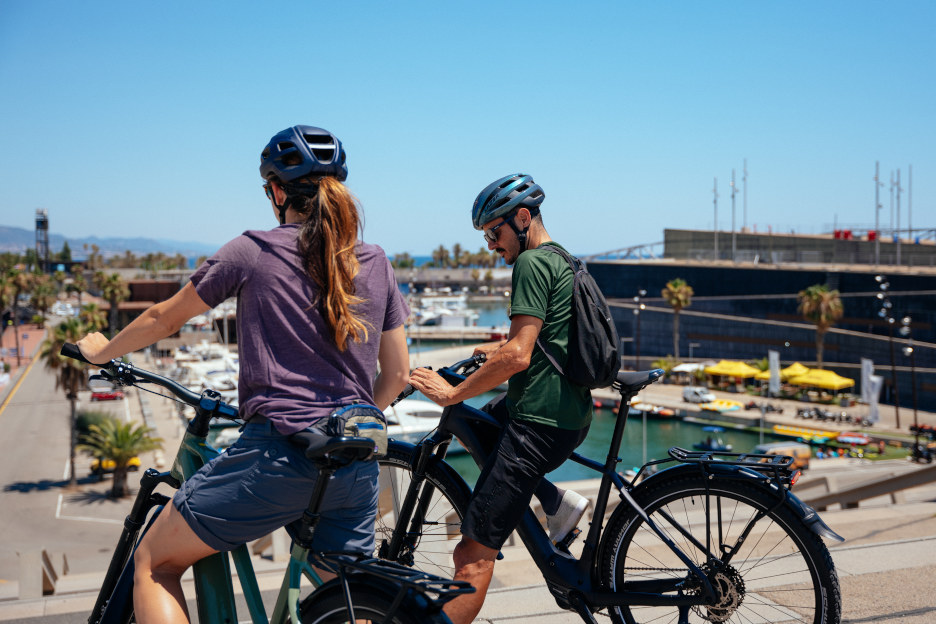 Three things to make your spring cycling more enjoyable
Prepping your bike for spring cycling
Just as spring sunshine shows up the cobwebs at home, warm weather prompts giving your bike a good clean and service to get it ready for long rides.
Washing your bike is about more than aesthetics. It gives you a chance to check it is in good working order, so it is safe and enjoyable to ride.
Gritty, wet winter roads can cause wear to components, particularly your chain and brake pads. If you need more confidence checking your bike, book it in to your nearest Shimano Service Center.
What to wear in spring
Dressing for spring can be tricky. Cool mornings lead to hot days and sunny afternoons and fade into chilly evenings. Whether you go for tight Lycra or technical clothing with casual styling choose versatile clothes that allow you to add or remove layers as the temperature fluctuates.
On cooler days it pays to put a base layer under your jersey. It keeps your core warm while allowing you to feel the warm breeze on your arms. Another useful bit of kit is arm and knee warmers. These are easy-to-pull-on Lycra tubes that can extend your shorts or short-sleeve tops to cover your knees and arms when you start to feel cold.
Too much, too soon
When the sun is out and the weather is beautiful, all we want to do is ride, ride, ride. But if you haven't been doing much cycling through the winter months, you might find the sudden increase gives you a few aches or some soreness.
If this happens to you, dial back your cycling time and build up a little more gradually. Cycling should never hurt, so if you have persistent pain that doesn't go away with rest, check your bike is set up to be comfortable.
Celebrate spring with a cycle ride! For more inspiration and advice, visit our news pages.
Do you want to read more about how sunshine can help you feel better and healthier? Discover more about the benefits of sunlight, why we need Vitamin D and how sunshine can help with depression.
Whether you are dusting off your old bike or looking for a new one to enjoy in the summer months, head to your nearest Shimano dealer for servicing, sales and bike support.