While hulking vans grapple with traffic jams and elusive parking spaces, nimble bicycles are zipping around small streets and tight corners. Let's look at the practical, efficient, and increasingly popular e-cargo bikes that are changing the way we move through our urban environment.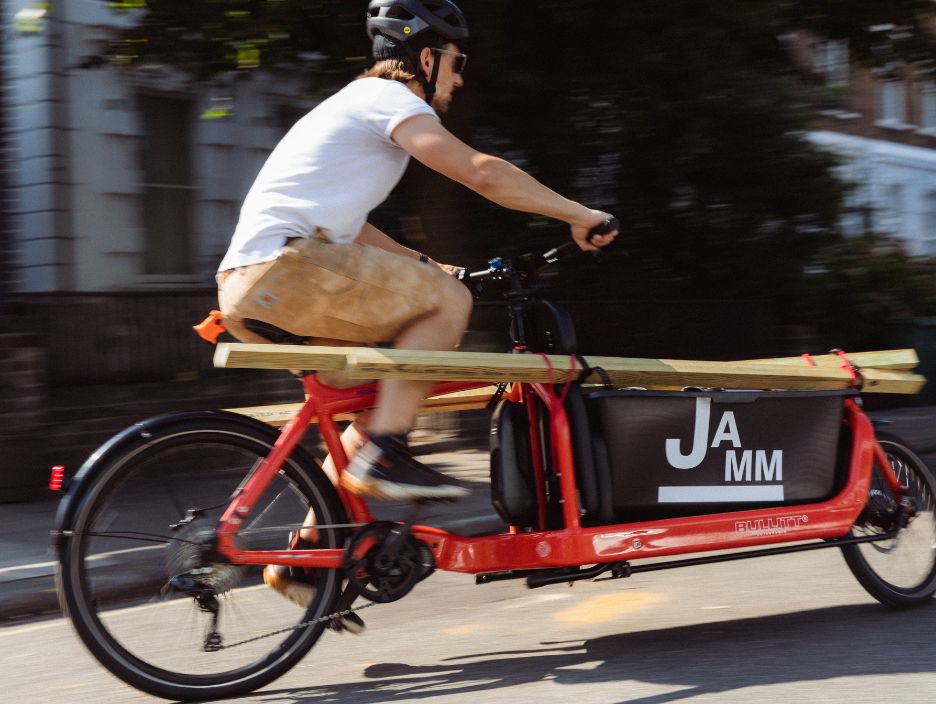 European Cities Embrace E-Cargo Bikes
The power of the e-cargo bike is bringing bike transport back to the builders, plumbers and carpenters of our cities. At the heart of an e-cargo bike's ability to carry heavy loads is its electric drive unit, designed to provide the right amount of pedal assistance to help with heavy loads and tricky urban situations like moving away from traffic lights.
From Amsterdam's canals to Berlin's boulevards, the chirpy ring of the (e-cargo) bike bell is again becoming a familiar sound.
At this point, you may argue that e-cargo bikes can't carry as much as a van or conquer steep hills with heavy goods and tools. But just imagine traffic jams being a thing of the past.
Transport for London (TfL) data reveals that an average van ride in the capital lasts an hour for just 13 kilometers! Nearly half of all van trips are less than 8 kilometers, a distance from which an e-cargo bike would breeze.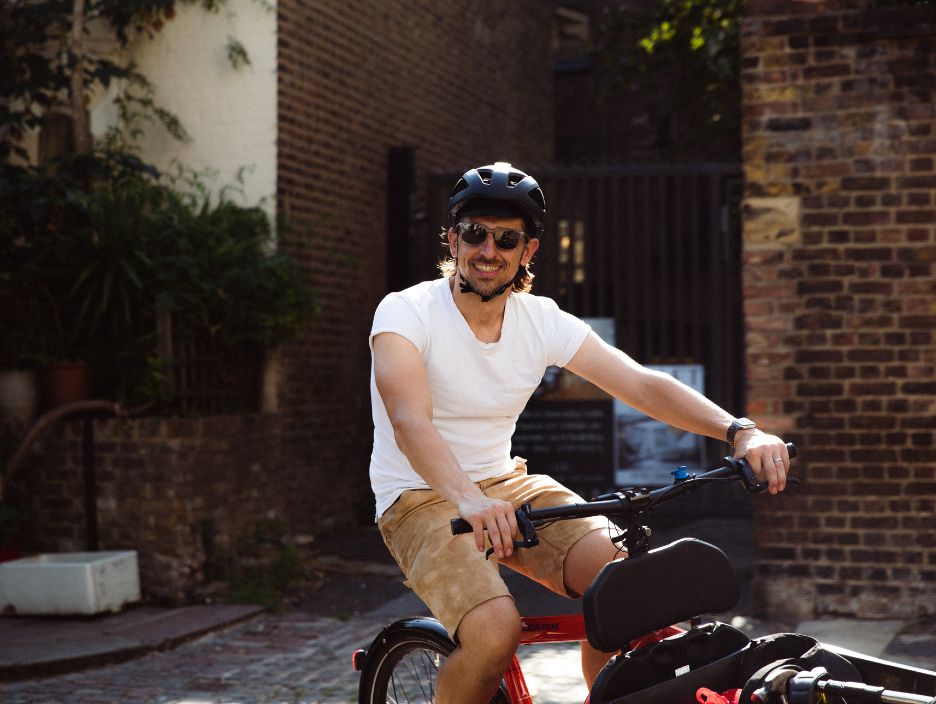 The future of e-cargo
Mat Shreeve from JAMM Innovation, a leading champion for clean, net-zero emissions businesses, can vouch for the power of e-cargo bikes from his experience in ventures like Fettle and BackPedal and his own experience as a tradesperson. These innovative businesses are redefining sustainable transportation with e-cargo bikes leading the charge.
What do people say when they see you turn up with your tools and lengths of wood?
"A sweeping generalization is that if a tradesperson drives a 'white van', there needs to be a change in perception of what a tradesperson is and what their values are. People are often surprised when I turn up by bike, they assume I need a van, but they quickly realize how efficient it makes me. I can be in and out of places like Screwfix before most people can turn their vans!
"You don't have to be fit to ride an e-bike, if I'm tired, I use a bit more power from the e-bike. It is so enabling. Compared to a van full of empty seats, a bike holds just one person. Every time, the bike wins in terms of space utilization. I don't need to drag around four empty seats. I just need my tools and me!"
What are the benefits of e-cargo bikes to trades and businesses?
"When you charge by the hour, you are not being paid if you are not onsite. I've worked alongside an electrician who's a real champion for e-cargo bike use a number of times and learned a great deal from those experiences.
"Electricians don't tend to carry a huge number of tools, nothing that can't fit in a rucksack. An e-cargo bike is ideal for that type of job as you can roll straight into the job site and spend no time stuck in traffic when you're heading there."
What are the benefits of e-cargo bikes to a city?
"Our high streets and cities have changed. Out-of-town shops forced people to drive to retail parks, but now e-commerce means people choose to stay home and order online instead.
"One example of e-commerce is Amazon. It puts thousands more vehicles on the road, and the result is a lot of the traffic is not our local tradespeople – it's the volume of e-commerce deliveries. Final mile delivery by bike would alleviate a lot of this congestion."
What needs to change to help more tradespeople access bikes for their daily work?
"Mindset is the first one, trying to normalize this use of bike technology. The price can put people off, too. I'm currently speccing up a new one which will cost me many thousands of pounds, but it will be my 6th e-bike as I see the value of this transport mode.
"My first one was only 800 euros, so I have worked my way up through several different bikes and increased my loading capacity, range, and power each time. I am confident in spending that money because pretty much every car I have driven cannot match the ability of a decent e-bike on journeys around the final mile and within the inner city. Subsidies might help to assist people with the initial start-up costs of getting an e-bike, but realistically many tradespeople spend a lot more than that on their vans, it's not financial necessarily, more about behavior change."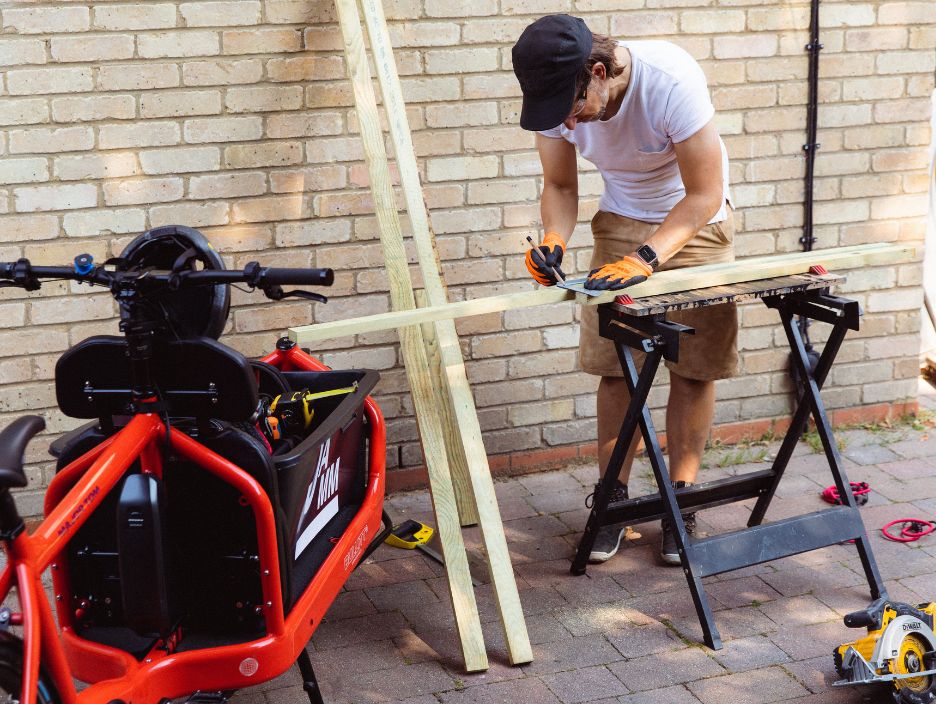 Sharing the load
You don't have to be a tradesperson yourself to increase cargo bike use. Whether it is parcel delivery or plumbing, support those businesses who are using cargo bikes and be a part of the transformation of our cities.