How to prepare your bike for winter cycling
Winter doesn't need to mean an end to cycling. With the right clothing for you, and right maintenance for your bike, you can enjoy cycling all year round. We share our expert tips to help you look after your bike to keep it running smoothly in even the worst of conditions.
Cleaning and maintaining your bike in winter
Winter weather can be tough on your bike. The roads are often wet, gritty and salty which as well as making your bike dirty can cause damage to components. Salt that is spread on roads to prevent ice can be corrosive and encourage rust, so your bike is going to need a bit of extra cleaning and protection.
In the dry days of summer, you can get away without washing your bike very often but in winter a regular clean is essential. A few good bits of kit can make it a quick and simple job. Use a soap or spray designed for bike cleaning to rinse muck off your frame and wheels and a degreaser spray to remove the layers of dirty old oil from your chain and gears.
Once your bike is clean and free of old oil you can use a light water-dispersing spray oil to drive out moisture before re-oiling your chain. Be very careful to avoid getting oil onto your disc rotors. Check out our video for a more detailed explanation.
Winter cycling upgrades
To help your bike cope with the weather conditions make a few simple upgrades.
Tyres – rain tends to wash grit and debris into roads making it more likely that you will puncture in winter. Heavy-duty winter tyres have added puncture protection, you might also choose tyres with a more rugged tread pattern for added grip on damp roads. Spiked tyres make it possible to ride on icy surfaces for really extreme winter conditions!
Lubrication – splashing through puddles, rain and snow can wash the oil off your chain making it more likely to rust. Choose a slightly heavier 'stickier' oil that won't rinse off as easily.
Mudguards – many urban and commuter bikes come with fixed mudguards but if yours doesn't invest now for a cleaner, drier winter! A mudguard not only stops the spray from your wheels covering your bike it also keeps your feet and bottom dry.
Don't forget to check you have working lights. Even if you never ride in the dark, lights are useful when there is poor visibility because of fog, rain or even snow!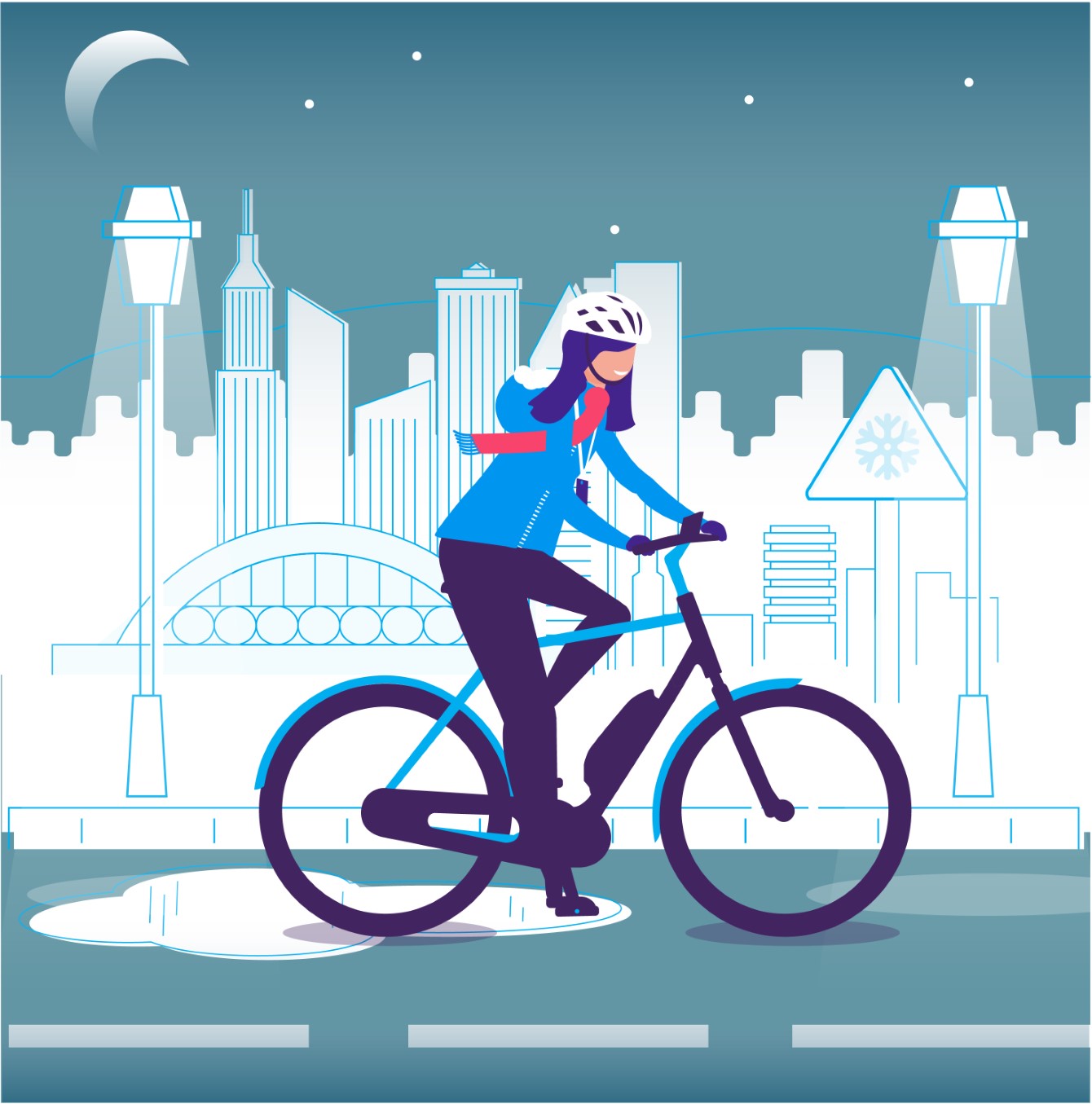 Do e-bikes work in winter
E-bikes are the perfect choice for winter cycling as you can get a bit of extra support from the motor to help with headwinds and ensure you get to your destination quickly on bad weather days.
Whether you are riding or storing your e-bike it is worth paying some extra attention to how you look after your e-bike battery in winter so that the range and longevity of your battery is not reduced.
Pre-winter bike service
Whilst all these tips can be done at home, for total peace of mind head to your nearest Shimano Service Center and ask for a pre-winter check and bike service . With some expert Shimano help you can be confident your bike is starting the winter season in the best of condition.